Enjoy A Scenic Picnic or Sight Seeing Cruise
Aboard Our Salty Dog Custom 36' Picnic Boat
Private Cruises for 1, 2 or more - up to 6 passengers
• Covered Sunshade on Back Deck
• Full Restroom Facilities
• Air Conditioned Salon
• All Ages Welcome
• Easy Boarding
• Yacht Quality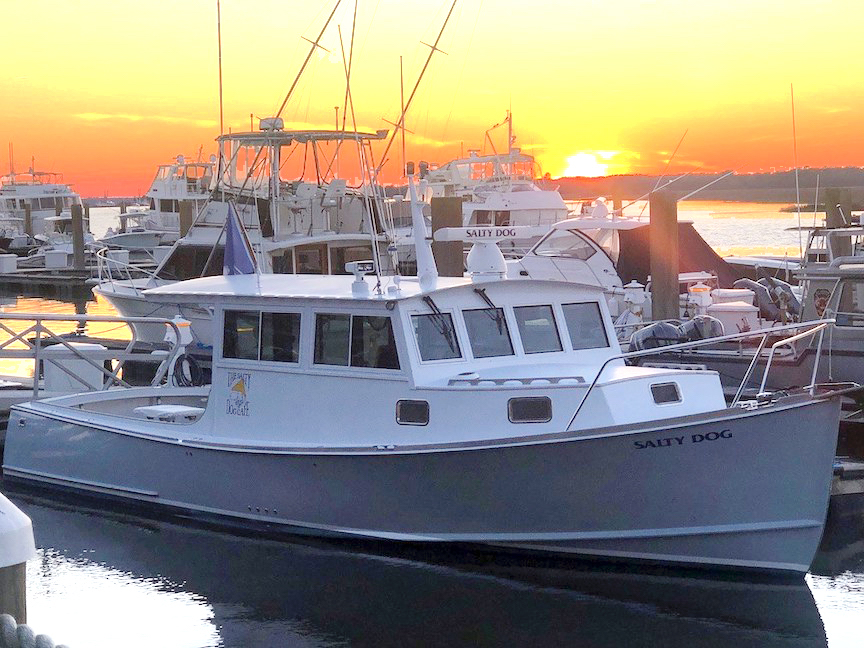 Cruising Into Spring 2021!
Pick A Private Cruise Package
South Beach Marina • Hilton Head Island

SCENIC CRUISE • $220
We've got the Boat and the Captain. Sail Alone or bring up to 5 of your favorite friends or family and pack your own snacks (sorry, no carry on alcohol). We offer soft drinks, bottled waters, and select Wines and Craft Beers available for purchase. (No distilled spirits and NO BYOB)

Spend 1.5 Hours putt-putting around Calibogue Sound and surrounding waterways. Experience The Lowcountry and the surrounding waterways at their finest with tropical breezes and gorgeous views!

You can even pretend it's your boat - we won't tell.
CATERED PICNIC CRUISE • $245
We arrange the Boat, the Captain and the First Mate. Your job is to invite a very special friend or up to 5 of your best buddies to ride with you. Also, perfect for families!

Cruise along as you munch on complimentary cheese and crackers with soft drinks included. Or upgrade to a Salty Dog Picnic Basket tailored to feed your crew: pimento and crab dip served with crispy pita chips and captain's wafers, fresh cut veggies for dipping, a garden salad, your choice of a shrimp roll or chicken roll with coleslaw, and end it all with our homemade Key Lime pie. We will happily pour your Toast with Beer and Wine available for purchase. (No distilled spirits and NO BYOB)

A tranquil 1.5 Hours slow floating around, enjoying your family, friends, food, and see some of the best scenery anywhere. Brunch, Lunch, Siesta, Sunset, and Full Moon Cruises* with custom time schedules, plus we can help you build your very own Salty Dog food and beverage package.

If you are looking for something different, this might turn out to be the perfect family outing or the ultimate date night. And, if you are having too much fun, ask your Captain if he can hit the cruise button and keep the meter running! **
CUSTOM CRUISE • $150 / Hour
We bring the Boat and the Captain. You tell us where you would like to go* and bring up to 5 of your numeral uno companions or family. Gather your own food or choose our Salty Dog Picnic Basket with a First Mate to serve you (priced accordingly). Soft drinks, bottled waters, Beer and Wine available for purchase. (No distilled spirits and NO BYOB)

Cruise around South Beach and Calibogue Sound, peak out into the Atlantic Ocean (weather permitting), or make a day of it and catch some rays as we sail up the Cooper River or take a lap around the Island. Custom Cruises available to Daufuskie Island, Savannah and Beaufort. 1st Hour $150. Each Additional Hour $125. Minimum 2 Hours.

You can breathe easy - we got this!

* Actual destinations and times are at the discretion of the Captain and may vary dependent upon the tide, weather conditions, etc.
For More Info
OR
To Schedule A Trip:
Lindsey
Cruise Co-ordinator:
call or text 843-683-6462
e-mail to:
boatride@saltydog.com
• Custom Private Cruises and Menu Available *
• Vessel USCG Approved Up to 6 Passengers
• Boat + Salty Dog Crew + Water + You = Fun!
• Covered Sunshade on Back Deck
* Your Own Private Cruise!
Let us help you Chart It:
• Toast To A Sunrise
• A Mimosa Brunch
• Leisurely Lunch
• LowKey Siesta
• Sunset Dinner
• Full Moon Fun
• Sight Seeing
• Gift A Friend
** Subject to Availability
Each Additional Hour $125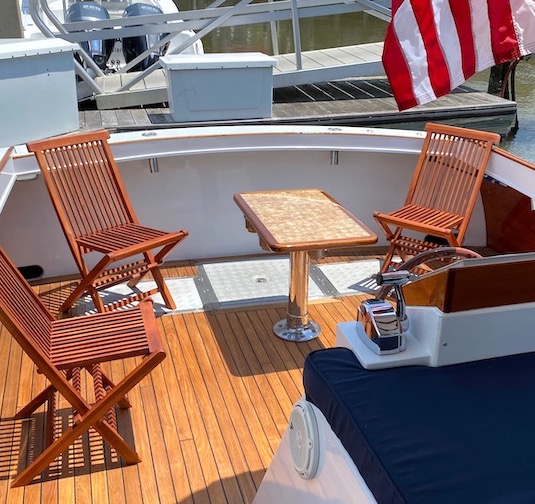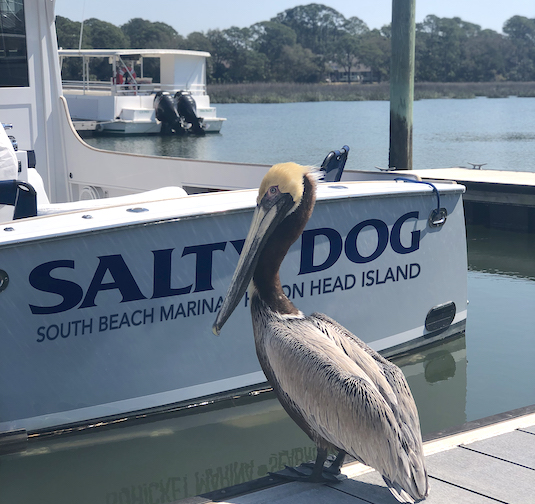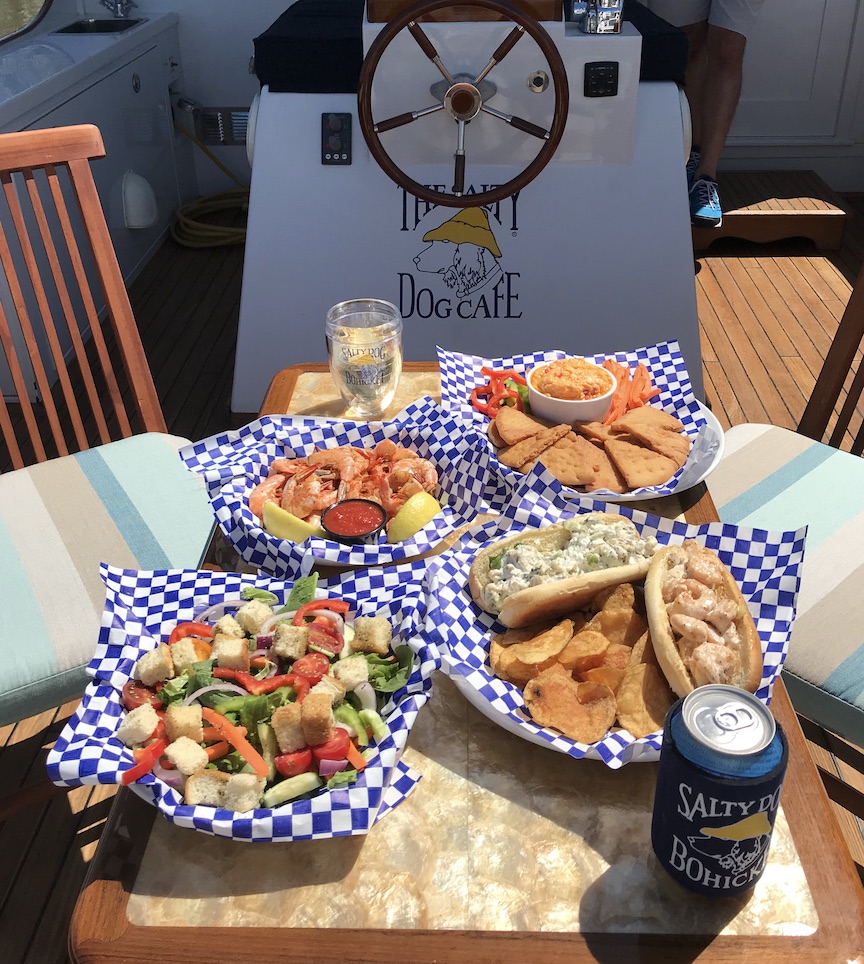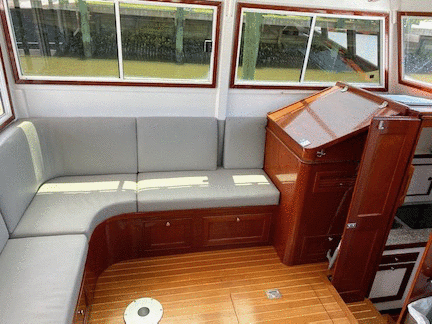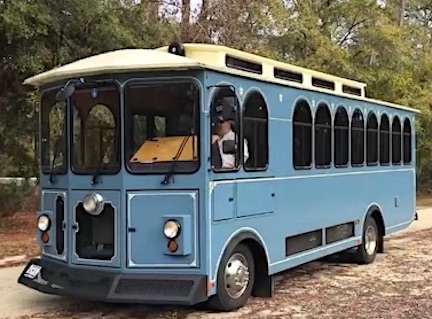 Custom Private Cruises and Outings
Salty Dog Land Transportation Available!
Accomodations for 1 up to 44 passengers
call or text: 843-683-6473